Empowerment
WE believe in empowering people with the power of functional literacy and equip them with better skills for a dignified sustainable livelihood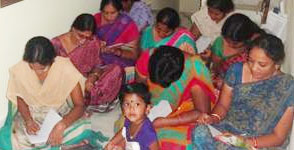 J.K. Organisation has been there for almost 100 years and even before the term CSR was coined community development was a part of our moral responsibility.
Our founders believed in sustainable development and we have been committed to enhance the quality of life and social well being of communities where we work.
J.K. Organisation's community development initiatives are always based of the requirements of the local populations and we have been ensuring socio-economic development in areas of education, livelihood and competency development etc.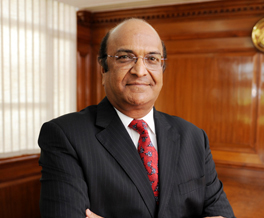 Dr. Raghupati Singhania
Chairman & MD, JK Tyre & Industries LTD
Vice-President, JK Organisation
"Most of JK Organisation's projects were started in underdeveloped rural areas of India. In fact we are proud that our initiatives changed the socio-economic structures of communities in many backward pockets of India."
Our focus:
Literacy and education - Today more than 300 Adult Literacy Education Centers are functioning from north to south and east to west and more than 50,000 people have become literate.

JK Fenner took the lead in initiating this concept, which involved adopting a sub- block of 10 villages in partnership with the Swami Vivekananda Rural Development Society. JK Fenner has also organized awareness sessions to educate both children and parents on the importance of education. They have also donated classroom benches to improve the quality of furniture available to students in school.
Development of ITIs as Centre of Excellence - At the behest of State Governments, JK Organisation has adopted Industrial Training Institutes (ITIs) in five states viz. Gujarat, Karnataka, Madhya Pradesh, Rajasthan and Tamil Nadu and has contributed to provide more meaningful Vocational Education. After our involvement in these ITIs, not only has the number of student intake increased but 100% placement is also taking place at a few places.

JK Tyre adopted three ITIs under the Public Private Partnership (PPP) scheme in Rajasthan, Karnataka and Madhya Pradesh, while JKLakshmi Cement adopted ITI Sirohi, where 100% placement of passed out candidates in various Industries was achieved. JK Paper adopted ITI Ukai in Gujarat where two new trades of Electrician and Attendant Operator in Chemical Plant were introduced
Empowering socio-economically backward population with skills to earn sustainable livelihood through SHGs - The group believes that enabling the poor to set up micro enterprises goes a long way in creating social stability and economic well being. Many of the women who have come to our adult literacy programmes are encouraged to form Self Help Groups (SHGs) with micro-finance facilities. These SHGs are trained and their capacities are enhanced to start small processes to support livelihood. Trained professional staff of the Group helps SHGs to run these activities around our plants. As of today, 200 SHGs have been set up and many of them are managing their own micro enterprises which vary from dairying to detergent making to poultry farming and even packaging of produces like termaric, tamarind etc. The SHGs are further helped to open bank accounts under the Prime Minister's Jan Dhan Yojana Scheme.
Farmers' training - The group has is also running programmes across various locations in India where farming communities in the neighbourhood of our facilities are informed and trained on "best farming practices". While these help in improving crop productivity the Group also helps them by providing linkages to the nearby markets and mandis.